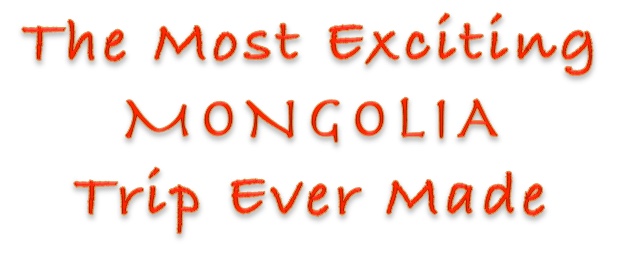 August 26-September 9, 2018 • 15 Days
$7480 beginning in Taipei and ending in Beijing
International Airfare Additional
Single Supplement $990
Led by Yuri Boyanin
(all photos on this page are by Yuri)
All of Yuri's passion, creativity, knowledge, experience and intuition were put into planning this tour.
This is the only tour in the world to visit four UNESCO World Heritage sites in Mongolia: Uvs Lake, Petroglyphic complexes of the Altai, Orkhon River cultural landscape, Burkhan Khaldun Sacred Mountain. Most of them, apart from the Orkhon river, usually take days of hardy trekking across rough terrain. We will take many short cuts to access them. It is also the only tour to travel to all four directions out of Ulan Bator: north, east, south and west.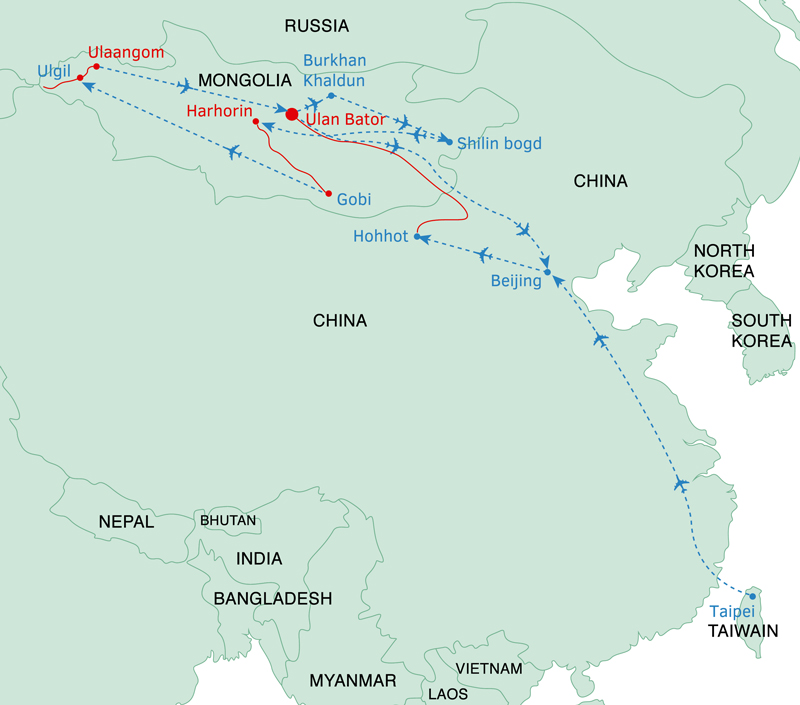 Discovery Highlights
The tour will visit some of the world's best museum collections on Mongolia. Maps, portraits, images and artifacts will allow us to get broad and distinct perspectives on the Mongol culture and history: through various various Persian, western (e.g. Marco Polo) and Chinese sources. It will allow us to see how Chinese and Mongol culture fused - that cultural and linguistic pluralism that Mongols are still proud of.
Let's try and count how many times the colors, the textures, the smells, the sounds, the animal and plant life, and the weather will change in the Gobi desert as we cross it from north to south!
And let's count how many ways of crossing a river there are: the horse. The tractor taxi. The dilapidated bridge. Or the birvaz. What's a birvaz? Join the tour and see.
Dash to Chingiz Khans's birth place: where he was born, raised, and eventually crowned. And then see, from the air, the holiest Mongol mountain, Burkhan Khaldun, believed to be the place where Chingiz Khan is buried.
We will have two long drives: one to experience the might of the Altai Mountains in the west; one to experience the sheer size and solitude of the Gobi desert in the south.
We will soak in some of the world's most enchanting hot mineral springs - in the middle of nowhere, only accessible by a three day long horse ride or a charter flight.
Visit one of the world's largest coal mines, truly in the middle of nowhere, never visited by tourists before.
We will listen to one of the most amazing modern Mongol folk bands play for us in the heart of the Gobi desert.
We will stay at only the finest, most atmospheric lodgings in this part of Eurasia.
We will get a glimpse of Muslim Kazakh and animalistic Tuvan culture in Mongolia's remote far west, the Altai mountains.
Eat a chocolate cake at the salty Uvs lake (five times saltier than the world ocean), a World Heritage site: where the world's northernmost desert meets the world's southernmost taiga.
Meet, and chat with colourful local characters: in the city, and in the countryside.
Meet a shaman.
Search for dinosaur fossils in the Gobi desert.
Learn more about different lifestyles in modern-day Mongolia: for instance, how nomadic pastoral people in the Gobi desert make a living in some of the world's harshest conditions; how Mongolia makes the bulk of its GDP through mining for coal and minerals.
And much more!
Preliminary Day by Day Itinerary
August 26 Arrive Taipei
Sunday
Arrive Taipei any time of the day. There are convenient direct flights from Seattle, or connecting via San Francisco, Los Angeles or Tokyo. Transfer to your hotel: Eclat. There are many food options around the hotel. Please enjoy them. Have some rest after your flight. If you arrive earlier, there will be a welcome pack with places to see and things to do on your own. The city is very exciting! Overnight in Taipei, Eclat Hotel.
Eclat Hotel, Taipei
August 27 Mongolian Treasures in the Palace museum
Monday
We meet after breakfast, at 10 in the morning. An introductory talk about the tour, followed by bus transfer to the National Palace Museum on the outskirts of Taipei. The museum has a comprehensive collection on Mongol period art and artifacts - including the world famous portrait of Genghis Khan which we will see everywhere in Mongolia. The history of the collection in a nutshell: Mongols had to evacuate their capitals Khanbaliq and Xanadu in a haste in 1368. They left much of their treasures behind thinking they will eventually return. They never did. These treasures were kept by the next dynasties, the Ming and the Qing. They were shipped to Taiwan after the Chinese Civil War was lost by the nationalists in 1949. We will grab lunch in the museum while exploring the collection. In the afternoon we will get back to our hotel to rest. Feel free to discover some of the other sights of Taipei, such as temples, the famous Taipei 101 skyscraper. We will have dinner in a traditional restaurant in the mountainous hills just outside the city. Note - this is not our official welcome dinner yet! That dinner will be in Mongolia. Overnight in Taipei, Eclat hotel, second night. (B-D)
Eclat Hotel, Taipei
August 28 Mongol-era Khanbaliq, or Beijing
Tuesday

After an early breakfast we will fly to Beijing. Transfer to our hotel in the heart of the hutong old town. This is the most atmospheric hotel in the most atmospheric part of Beijing. And best of all, it has its roots in Mongol times! Some free time to rest, followed by a light lunch dumpling buffet. We will have a tour of what's left of the Mongol imperial capital Khanbaliq, as Beijing was named by Kublai Khan. The hutongs were also built by the Mongols. Join the tour to learn what hutong means! We will also visit the Palace museum, with another bit of Mongol era artifacts - interesting, although not as spectacular as the ones in Taipei. We will have dinner at the Temple restaurant, Beijing's finest. Overnight in Beijing, Orchid Hotel, one night. (B-L-D)
Orchid Hotel, Beijing
August 29 Inner Mongolia
Wednesday
Early breakfast, followed by a flight to Hohhot, the capital of Inner Mongolia Autonomous Region of China. Please pack just a day pack, no sharp objects or liquids larger than 100 ml. Our bags will follow by road in order to speed up our airport experience. At Hohhot we will visit the new stunning Inner Mongolia Museum, with another set of important artifacts on Mongolian history, society and culture. And what's more important - another interpretation of what is Mongolia. Mongolia was not, and still is not, confined only to its present day borders. We will grab lunch at the best Mongolian restaurant in China. Then we are off to nearby Jining South, approximately one hour by bus through the green steppes of Mongolia, to catch the international train to Ulaanbaatar. Dinner onboard the train. The first two hours of the journey, before it gets dark, we will enter the mighty Gobi desert. At the border the train will get lifted so it changes tracks: from the standard gauge Chinese to the wide gauge Russian. Overnight onboard Trans-Siberian train K4, in deluxe two bed compartments, which may or may not have shower and toilet, depending on the train. (B-L)
On Board Train
August 30 Mongolia by train
Thursday

At the time when you wake up, please notice how much the scenery has changed! We are now at the fringes of the Gobi desert, entering the steppe lands of the north. Enjoy the ride. Grab breakfast and lunch at the restaurant car of the train. At 2.30 pm we arrive in Ulaanbaatar, also known as Ulan Bator. Short transfer to our hotel. Some time to rest and relax after the train. In the late afternoon we will meet for a introductory walk of Central Ulan Bator.
We will visit the Choijin Lama temple, just in front of our hotel, Sukhbaatar square with the famous Genghis Khan statue, and the small but important History museum on the western end of the square. Tonight we will have our welcome dinner, at a very popular hotpot restaurant in town. Welcome to Mongolia! Overnight in Ulaanbaatar, Shangri-La hotel, two nights. (D)
Shangri-La Hotel, Ulaanbaatar
August 31 Best of Ulaanbaatar
Friday

After breakfast we will continue our tour of Ulaanbaatar: stopping at the small but stunning Zanabazar art museum, Gandan Khiid monastery - the only monastery that remained open during communist times. We will have a homecooked lunch with a Mongolian family in the ger district of town - where people still live in felt tents, or gers as they are known. Then we will visit one of Mongolia's three remaining bow and arrow makers in his large, communist-era prefabricated apartment building. He makes composite bows - made of wood, skin and bone. And he has hundreds of them in that small apartment. In the afternoon continue to the communist Zaisan monument overlooking the city, and the largest equestrian statue in the world - of who else than Chingiz, or Genghis Khan. Buffet dinner at our hotel, followed by a ballet or opera on the main square, just a few minutes from the hotel. Overnight in Ulaanbaatar, Shangri-La, second night. (B-L-D)
Shangri-La Hotel, Ulaanbaatar
September 1 Two sacred mountains in a day
Saturday
After an early breakfast we will get to nearby Chingiz Khan international airport to board one of our three light aircraft: a Cessna, a Maule and a Pilatus.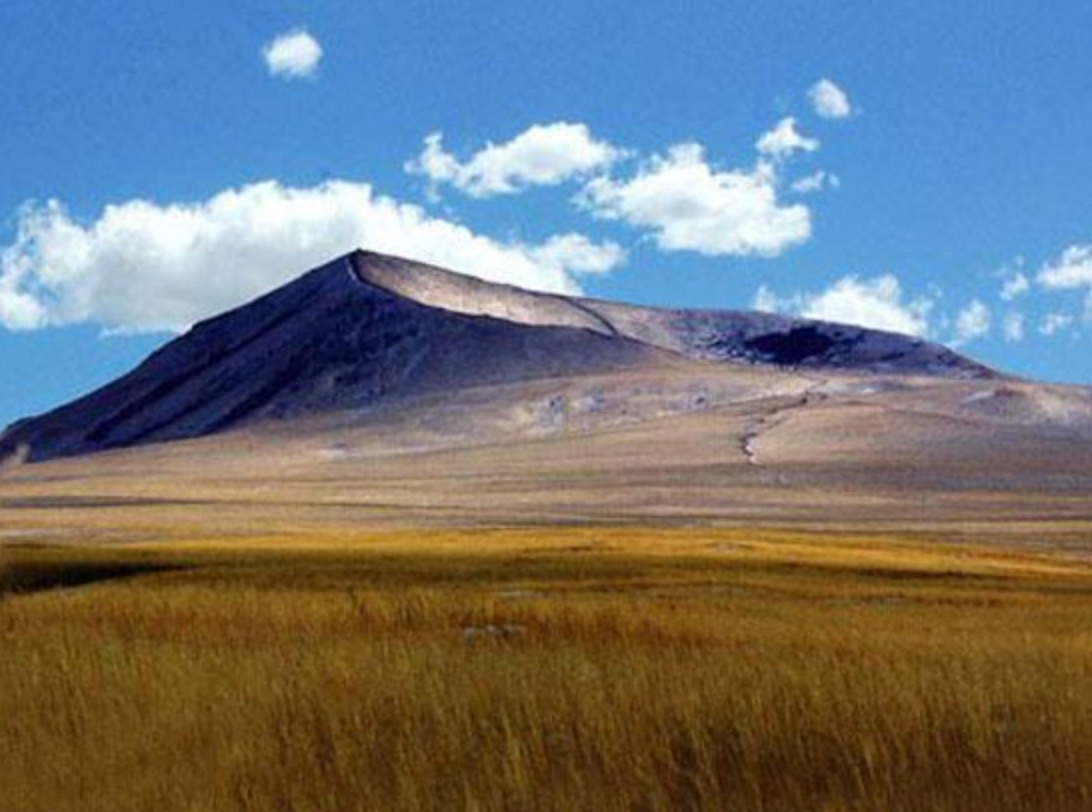 As the aircraft have a small capacity for luggage, please pack an overnight backpack only. The rest of the luggage will follow us by road, and we will get it tomorrow. First we will fly by Burkhan Khaldun, the holiest Mongolian mountain, believed to be the burial place of Chingiz Khan himself. The mountain is a UNESCO World Heritage site. Non-Mongolians are prohibited from climbing it. To get a peek at it, one usually hikes or rides a horse for three days. We will use an airplane. We will land on the other side of it, on the banks of the Onon river, where Chingiz Khan was born and raised, and played with his horses. We will enjoy the amazing Onon river springs - 14 of them, housed in small wooden shacks. Each spring is moderate to warm to hot. And each is named after a natural deity. To this place one normally hikes for days. Our next stop will be to visit a Buryat shaman. We will learn more about the Buryat ethnic people, and have a traditional Buryat lunch. The only thing is: we need to cross the river from the landing place. This is done by a tractor, by horse or by a pulley. Let's see on the day. Then we are off again, this time to remote easern Mongolia which few travelers visit due to complicated border permits. We will sleep in a tent camp on the foot of the sacred Shiliin Bogd Mountain. Shiliin Bogd is an extant volcano crater. Around us there are hundreds of other craters. It's an eery, special place, just a few miles from the Chinese border. Let's enjoy a barbecue dinner and the quietness and serenity of this place. Conditions will be basic, but don't worry, tomorrow we are back to our comfortable lodgings. Dinner in a tent or ger camp, Shiliin Bogd, one night. (B-L-D)
Shiliin Bogd
September 2 Orkhon Valley
Sunday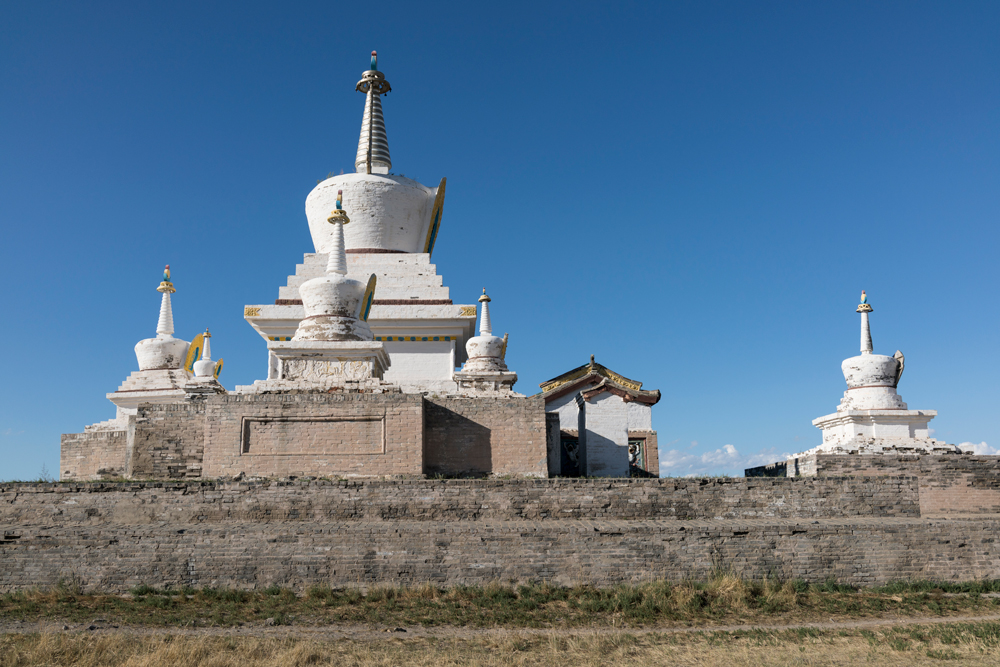 Wake up early! Get a quick, energy-filled breakfast, and hike to the top of the Shiliin Bogd at sunrise. It is believed this will bring health and good fortune. Many locals are doing it, too, but sadly no tourists - it is too remote for most of them. After sunrise we are off to Kharkhorin on the UNESCO inscribed Orkhon cultural valley. After landing, we will reunite with our luggage, wave goodbye to those little Cessna and Pilates aircraft, and get firmly on the ground. Check in at the comfortable new Ikh Khorum hotel in Kharkhorin. Some free time to rest. Lunch, and then a walk to the Erdene Zuu monastery, a jewel of Mongolian enlightenment. We will then visit the small but very informative history museum, and the ruins of Karakorum, the first capital of the Mongol empire. Free time in the afternoon to wander the ruins by yourself, search for old stone turtles (they bring luck!) or rest with a drink in hand. Dinner in the hotel. Overnight in Kharkhorin, Ikh Khorum Hotel, one night. (B-L-D)
Ikh Khorum Hotel, Kharkhorin
September 3 Crossing the Gobi Desert
Monday

After breakfast we will start for our tour's longest drive, across the mighty Gobi desert. Be prepared - it will be long and bumpy, around 10 hours in the car, but if you think this is long, think of the locals who do 50-60 hour non-stop rides from east to west.
We will have lunch with a nomadic family which raises camels, and learn more about survival and water management in the harshest of climates. This is not tourist territory. Money back to anyone who spots another tourist during the ride today. We will also hike some sand dunes. In the evening we will arrive at the ultra comfortable Three Camel Lodge, a National Geographic Lodge. Dinner there. Overnight in the South Gobi, Three Camel Lodge, two nights. (B-L-D)
Three Camel Lodge
September 4 Camels, horses and dinosaurs
Tuesday

Sleep till late, or wake up early and explore the surroundings around our camp. Breakfast. In the morning we will see locals perform traditional horse games for us. Then we will learn how to cook a variety of Mongolian foods, and then have what we just cooked for lunch. Free time. This is moment to ride a horse or camel if you wish - the lodge has probably the best beasts of burden in the country. In the late afternoon we will venture to the Flaming cliffs nearby, and walk together with a local paleontologist to discover more about the dinosaur fossils found here. Dinner in the Three Camel lodge, and traditional music from one of the best folk/jazz bands that has come all the way from Ulan Bator for us! Overnight in South Gobi, Three Camel Lodge, second night. (B-L-D)
Three Camel Lodge
September 5 Towards West
Wednesday

After breakfast we will get transferred to nearby Dalanzagdad airport from where we will catch a flight to Ulaanbaatar (with lunch in flight) and onwards to Ulgii. Arrive in Ulgii in the afternoon. Check in at Eagles Nest hotel. This is the best hotel in western Mongolia, and although no Shangri-La, its rooms are clean. We will visit the little Kazakh museum in town, hear a performance of Kazakh musicians at the town theatre, and have dinner in town. Ulgii is where most of the country's ethnic Kazakhs live. Overnight in Ulgii, Eagles Nest hotel, two nights. (B-L-D)
Ulgii, Eagles Nest hotel
September 6 Eagles, petroglyphs and throats singers
Thursday

Breakfast at the hotel. Then we are off to nearby Tsaigan for an eagle festival. We are going to gather all of the area's 80 eagle hunters to see who has the best eagle. The original eagle festival, started by Nomadic Expeditions Travel ten years ago is held in early to mid October. Unfortunately, that time is too late for travel elsewhere in Mongolia - the first snow falls during this time, and temperatures drop to below freezing. So I thought, why not organize a nomadic eagle festival of our own. The eagle hunters will be happy to do their thing. We will be the only spectators. There will be more than 4 eagles for each of us. Afterwards, let's see some of the area's UNESCO inscribed ancient petroglyphs, of rock art. And hear a world renowned Tuvan throat singer. Return to Ulgii late in the evening. Overnight in Ulgii, Eagles Nest hotel, second night. (B-L-D)
Ulgii, Eagles Nest hotel
September 7 Coal mining
Friday

After breakfast, head to Ulaangom, capital of Uvs province. We will see Uvs nur, a UNESCO World Heritage
lake. It's the place where the world's northernmost desert meets the world's southernmost taiga. On the way we will stop by one of the world's largest open air coal mines. Mining is what drives Mongolia's economy forward. Let's learn more about it. It will not be a pretty sight, please be warned, but it is what gives people a job and an income. We will fly in the evening, after crossing a steep mountain pass, to Ulaanbaatar. Buffet dinner at our well known Shangri-La hotel. Overnight in Ulaanbaatar, Shangri-La, one night. (B-L-D)
Shangri-La, Ulaanbaatar
September 8 The Great Wall
Saturday
The morning is free: have breakfast, sleep in, or take a walk in the city. We will then catch a short flight to Beijing.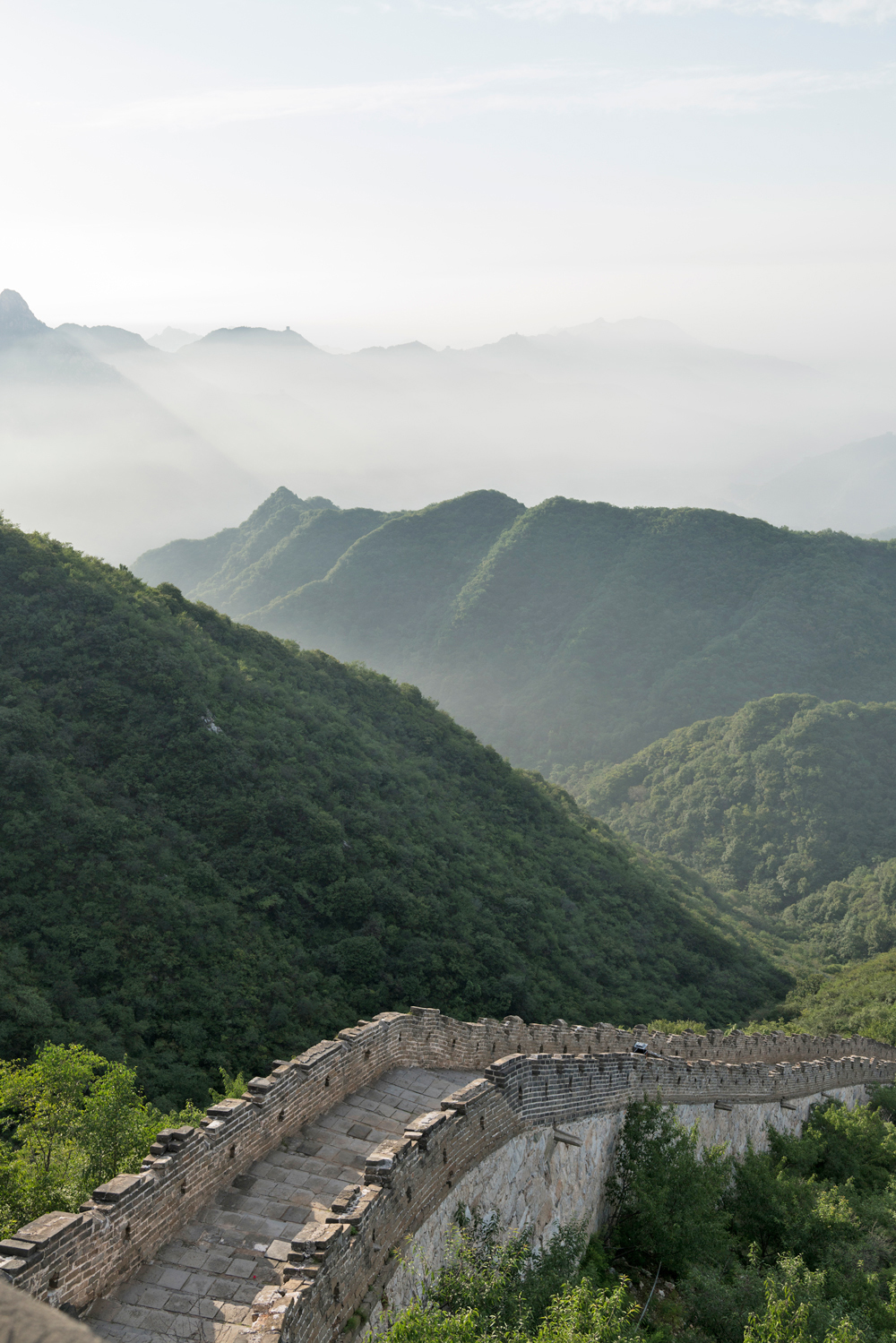 Transfer not to the city, but to the Great Wall an hour north of it. We will check in at the lovely Brickyard retreat, China's best nature retreat, housed in a former Cultural Revolution era kiln. Free time to rest in the amazing garden or spa, or to hike the Great Wall's wild and beautiful sections. It takes about 3 hours return to the Great Wall. At this time of the year all will be in golden autumn colours. In the evening we will have a short walk in the village to a traditional Chinese village restaurant. We will visit right during the chestnut and walnut harvest time - this is how the village makes its profit. Our farewell dinner will be chestnut themed. And it will be in the shadow of the Great Wall built by the Ming Dynasty, to keep the Mongols away right after expelling them in 1368. Most of the villagers are direct descendants of those soldiers who built the wall. Beyond the wall is Mongolia. Where we were just now! (B)
September 9 End of tour.
Sunday
Breakfast. End of tour. Transfers to Beijing Capital Airport for your flights back or where the heart takes you next. (B)
Includes:
All accommodation and meals per program.

Transport: buses and 4WDs in the desert.

Deluxe Trans-Siberian express from Jining South to Ulaanbaatar.

Flights Taipei-Beijing; Beijing-Hohhot; Dalanzagdad-Ulaanbaatar-Ulgii; Ulaangom-Ulaanbaatar; Ulaanbaatar-Beijing.

Charter aircraft to get us to Burkhan Khaldun, Onon valley, Shiliin Bogd and Orkhon valley.

Mineral water on the way - as water is often hard to get in many of the countryside places.

Musicians, throat singers, almost a hundred eagle hunters just for us.
Visa invitation letter for China, if required.
Please note: this is not a tour of China. The sights we visit in China and Taiwan are all directly related to Mongolian history. They give a useful introduction to things and places we will see later on in the journey. China is also a convenient stopover location.
Excludes: any meals not in the program; insurance; flights into Taipei and out of Beijing; traditional tips for drivers and guides. Chinese visa. You need a single, but ideally a double entry Chinese visa.