Day by Day Itinerary
March 20 Arrive Bishkek, Kyrgyz
Wednesday Republic
Arrive in Bishkek in the early morning. See recommended flight schedule on page 6 of the brochure. Welcome to the largest city in the Kyrgyz Republic! We'll be greeted at the airport, proceed through entrance formalities and transfer to Hyatt Regency Hotel, located in the heart of Bishkek. We will start with a tour of the opera house, located just next door to the Hyatt. Brunch will be at the hotel. In the afternoon, enjoy a Welcome Walk around downtown to see Ala Too (main square), Parliament, White House, and Oak Park. Stop briefly to have a look at Mikhail Frunze's house, a fine example of imperial Russian architecture. A visit to the Fine Arts museum shows us the museum's fine collection of Kyrgyz carpets (as an introduction to patterns and designs we will see throughout our journey). The museum also has a collection of socialist-realism art, including masters like Semyon Chuikov, who were partially responsible for crafting the new Kyrgyz-Soviet identity in the 1930s.
The walk will be roughly 2 ½ hours, of which an hour or slightly less will be outside. Our centrally-located hotel is only 3 minutes from each attraction. This evening, enjoy dinner in a fine Kyrgyz restaurant. (Brunch-D)
Hyatt Hotel*****
March 21 Spring Festival in
Thursday Bishkek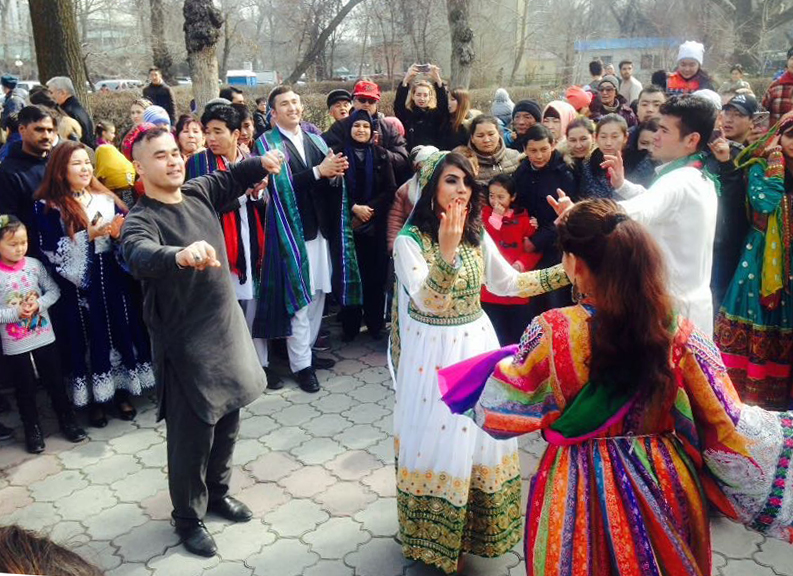 Today you have the unique opportunity to celebrate with the locals during the Spring Persian Festival Nawruz (Nowruz) in Bishkek! Taste authentic food and delight in the traditional activities. We will also have a tour of the Assembly of Nationalities, with representatives of each of Kyrgyzstan's 100+ ethnic groups, all dressed in their most festive traditional clothes for Nawruz! We will have dinner in a good local restaurant. After dinner we can go out for a beer in the first female-owned brewery in Bishkek. Overnight and dinner in Bishkek. (B-L-D)
Hyatt Hotel*****
March 22 Bishkek
Friday Chunkurchak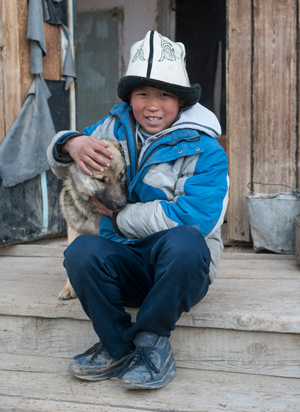 After breakfast head to the outskirts - the model 1970s and 80s mikrorayoni, or micro districts, built to house hundreds of thousands of workers from the countryside. There are some very interesting communist mosaics and murals. Not many tourists visit this part of Bishkek, but it is fascinating. We will enter a common person's home and listen to stories about how these buildings were built. Then we head south, and enter the mighty Tien Shan mountains. We will check in at our comfortable mountain lodge, where we will have lunch. For those interested, let's have a peaceful forest walk, and listen to a Manaschi (reciter of the world's longest oral poem). Or just enjoy the fire in your cabin. Dinner around the fire. (B-L-D)
Overnight in Chunkurchak: Supara****
March 23 Chunkurchak - Jel Aryk
Saturday Balykchy - Cholpon Ata
After breakfast we head out, using back roads, to the Burana tower to have a look at the remains of a once large Silk Road city.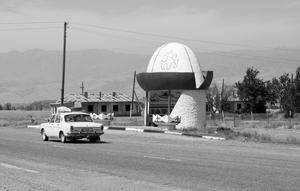 We will go to nearby Jel Aryk train depot to catch a special train to Balykchy (roughly 2 hour ride). Once aboard, relax while a music band plays for us and enjoy the stunning scenery of the Boom Gorge (train to be confirmed). We will also have a look at some of the road's curious bus shelter designs - these are among the Soviet Union's most interesting (abandoned) bus stops! Balykchy is a desolate, windswept place, and it (almost) never rains there. Upon arrival, we will stop at an abandoned Soviet amusement park. Then we continue to the Aurora Sanatorium, once used by the Soviet political elite. We will have our rooms on the last floor, where once very famous Soviet citizens used to take rest. Do not expect luxury at this sanatorium! But expect to be taken back in time, to the era of 1980s socialist chic. The sanatorium's grounds include the best kept garden along the shores of Issyk Kul near Cholpon Ata. Dinner at the sanatorium restaurant. (B-L-D)
Aurora Sanatorium***
March 24 Cholpon Ata
Sunday Frunze Farm - Karakol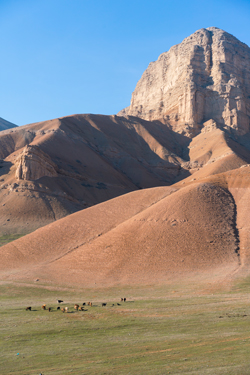 After a simple but hearty breakfast (expect freshly baked bread, a fried or boiled egg, cheese, jam and tea), we will continue by road to Karakol, a former Russian military outpost from the days of the Great Game.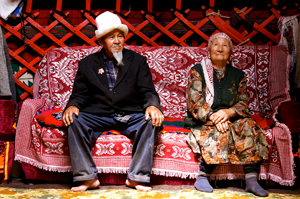 On the road we will stop in the village of Frunze, populated by a Balkar ethnic people who were exiled here by Stalin in 1944.There we will enjoy home cooked vegetarian Balkar food (amazing!) and listen to their songs and stories. In Karakol we will visit the nineteenth century wooden Dungan (Chinese Muslim) mosque, built without nails by Chinese Muslims in the Russian empire. In the evening we will go to visit the wooden Russian church, and take part in the evening Sunday mass. For dinner we will delight in some Dungan (Chinese- Muslim) food, in a Dungan home. We'll have the opportunity to hear people still speaking Chinese 150 years after they migrated here. (B-L-D)
Green Yard Hotel***
March 25 Karakol - Inylchek
Monday Karakol
After an early breakfast we head south east to the abandoned town of Inylchek, in the heart of the Tian Shan Mountains. A special border permit is needed to enter the area. On the way up into the mountains we will visit the old meteorological observatory.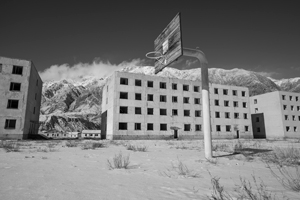 We will drive in a convoy of assorted Soviet 4WD trucks: ZIL, Ural and UAZ. The roads are normally kept open in winter. But just in case we will hire a snow plowing machine. Here, at the very roof of Central Asia, we will see incomparable citadels of rock and ice. At the high pass have tea and then continue by normal 4WDs down to the town. Walk along the empty streets of what was once an industrial town of 15,000 (now 15). A place where the Soviet Union literally ended: a once booming mining and industrial town tucked deep in the Tian Shan mountains, now in ruins.
Not even the Soviet Union managed to tame wild nature. This area is incredibly dry (and cold) and it almost never snows more than an inch. We will visit the thermal hot springs nearby - for those adventurous this is an opportunity to have a dip in the water. Enjoy a picnic lunch by the springs and the beach with glacial sand. See where the Soviet Union literally disappeared. On the way back we will visit the Inylchek school, which we proudly support with equipment. A cozy dinner at our hotel. (190 miles total today) (B-L-D)
Green Yard Hotel***
March 26 Karakol
Tuesday
After a late breakfast we will visit the studio of a local felt artist, then go out to learn how to build a yurt. We will take lunch in a cozy new café in town. (B-L-D)
Green Yard Hotel***
March 27 Karakol - Barskoon
Wednesday Chon Kemin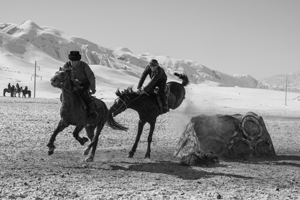 After breakfast start driving on Lake Issyk Kul's scenic southern shore. On the way, we will visit the home of a fascinating old man manufacturing carpets and yurts. We will witness games of kok-buro (polo) and at-chabysh (horse festivals). We'll have fun seeing kyz-kumai, an ancient equestrian sport where a boy chases a girl on horseback in an attempt to steal a high-speed kiss. Our overnight will be in Chon Kemin, a small village near the Kazakh border. Check-in at the comfortable Ashu Guesthouse, perhaps the country's best guesthouse. We will learn how to cook lagman, the most typical of all Kyrgyz foods! This evening relax with a stroll in the village. (B-L-D)
Ashu Guesthouse***
March 28 Chon Kemin - Tokmok
Thursday Tamgaly, Kazakhstan
Almaty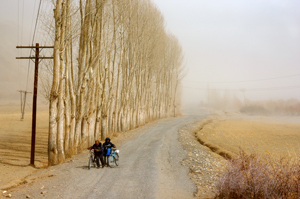 After an early breakfast we head to the nearby border checkpoint with Kazakhstan, only stopping to see the weekly animal market in Tokmok. Bargain for your horse here! We cross and enter the endless Kazakh steppe. Welcome to Kazakhstan! We head to Tamgaly, Central Asia's most interesting petroglyph site and a UNESCO World Heritage site. Only three hours away from Almaty, but completely devoid of tourists - last year less than 7000 people visited the site (that's less than 20 a day!) We will have a look at the Bronze Age petroglyphs. Lunch out in the steppe. We will drive to Almaty, and check in at the Ritz Carlton, Central Asia's highest (and most luxurious) hotel, in rooms over- looking the city and the Tien Shan Mountains. Enjoy a gourmet dinner on the highest floor of the hotel, in the highest restaurant in town. (B-L-D)
Ritz Carlton*****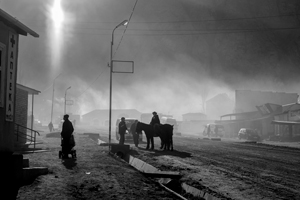 March 29 Almaty
Friday
After a lovely breakfast with a view, we will set out to explore the Green Bazaar, which is the most colorful and beautiful of all Central Asian markets. Then we will visit the recently renovated Zenkov cathedral, and have the opportunity to ring its bells! We will have lunch in a traditional Uzbek restaurant in town. Afternoon to rest or explore Almaty. Farewell dinner in a lovely Russian restaurant in town, housed in one of the oldest houses in Almaty. Bid farewell to your new friends over dinner tonight. And the grand finale – a ballet or opera in town. (B-L-D)
Ritz-Carlton*****
March 30 Depart Almaty
Saturday
Early morning transfer to the airport. See recommended air schedule on page 6 of the brochure.
B=breakfast, L=lunch, D=dinner
All photos on this page are by Yuri Boyanin.