Day by Day Itinerary
March 18 Meet in New York
Sunday
Meet your traveling companions at New York's JFK airport by 9:40 PM. Our flight departs just after midnight on March 19.
March 19 Depart New York
Monday Arrive Istanbul
Depart New York's JFK airport at 12:40 AM (midnight) by Turkish Air TK 12.
Arrive the same day in Istanbul at 5:30 PM and transfer to Turkish Airlines TK348 which depart at 10:05 PM.
March 20 Arrive Bishkek, Kyrgyz
Tuesday Republic
Arrive in Bishkek at 6:25 AM. Welcome to the largest city in the Kyrgyz Republic! We'll be greeted at the airport, proceed through entrance formalities and transfer to the Park Hotel, located in the heart of Bishkek. Brunch will be at the hotel. In the afternoon, enjoy a Welcome Walk around downtown to see Ala Too (main square), Parliament, White House, and Oak Park. Stop briefly to have a look at Mikhail Frunze's house, a fine example of imperial Russian architecture. A visit to the Fine Arts museum shows us the museum's fine collection of Kyrgyz carpets (as an introduction to patterns and designs we will see throughout our journey). The museum also has a collection of socialist-realism art, including masters like Semyon Chuikov, who were partially responsible for crafting the new Kyrgyz-Soviet identity in the 1930s. Lastly, we will stop by the National History Museum.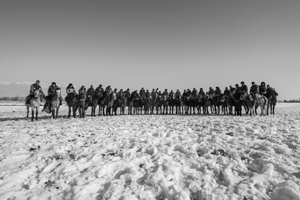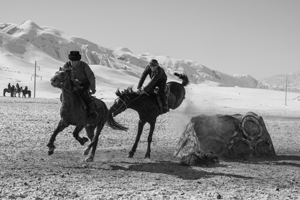 The walk will be roughly 2 ½ hours, of which an hour or slightly less will be outside. Our centrally-located hotel is only 3 minutes from each attraction. This evening, enjoy dinner in a fine Kyrgyz or Korean-Kyrgyz restaurant. The Korean food here is different from what people in the West understand as 'Korean'. It is much more rustic, simple, typical of Manchuria and North Korea, as this is where the Kyrgyz Koreans came from. (B-L-D)
Park Hotel or similar 4-star hotel in downtown Bishkek
March 21 Spring Festival in
Wednesday Bishkek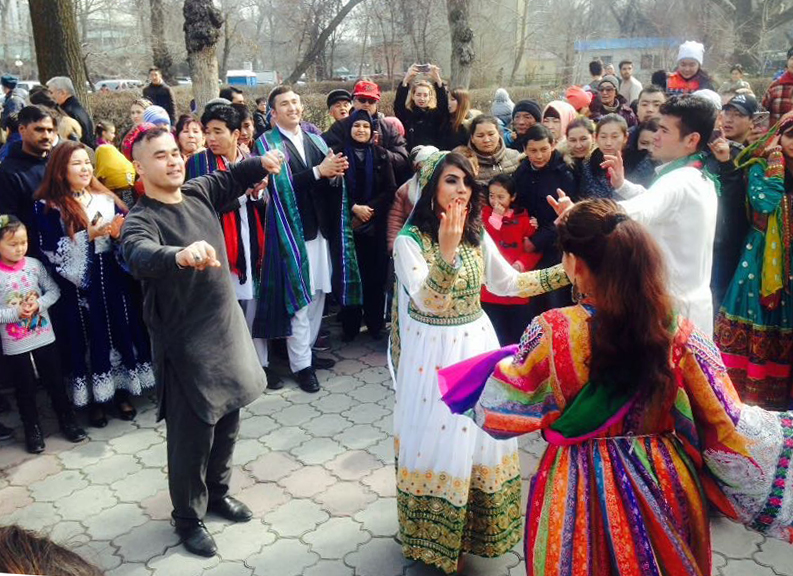 Today you have the unique opportunity to celebrate with the locals during the Spring Persian Festival Nawruz (Nowruz) in Bishkek! Visit the surrounding villages to witness dancing and games of kok-buro (polo) and at-chabysh (horse festivals). We'll have fun seeing kyz-kumai, an ancient equestrian sport where a boy chases a girl on horseback in an attempt to steal a high-speed kiss. Taste authentic food and delight in the traditional activities (exact program to be determined). Overnight and dinner in Bishkek. (B-L-D)
Park Hotel or similar 4-star hotel in downtown Bishkek
March 22 Bishkek
Thursday Burana - Chon Kemin
After breakfast head to the outskirts - the model 1970s and 80s mikrorayoni, or micro districts, built to house hundreds of thousands of workers from the countryside. There are some very interesting communist mosaics and murals. Not many tourists visit this part of Bishkek, but it is fascinating. We will enter a common person's home and listen to stories about how these buildings were built. Next enjoy an hour at leisure in the hotel before we check out and depart using a convoy of vintage communist vehicles: Moskvich, Chaika, Volga, and UAZ.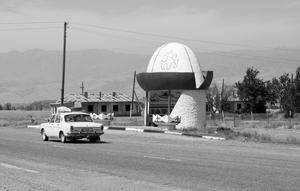 Stop to have a quick lunch with the kids of a Canadian-Kyrgyz orphanage on the outskirts of Bishkek. Continue to the Burana tower to have a look at the remains of this once large Silk Road city. Next Chon Kemin, our first touch with the mighty Tian Shan mountains. Check-in at the comfortable Ashuu Guesthouse, perhaps the country's best guesthouse. We will learn how to cook lagman, the most typical of all Kyrgyz foods! Enjoy local wine and some live music from the village band as we dine with the food that we just prepared! This evening relax with a stroll in the village. (95 miles total today) (B-L-D)
Overnight in Chon Kemin: Ashuu Guesthouse, 3-star
March 23 Chon Kemin - Jel Aryk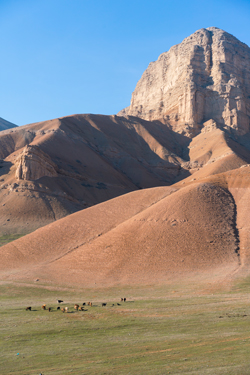 Friday Balykchy - Cholpon Ata - Karakol
After breakfast we head to the nearby Jel Aryk train depot to catch a special train to Balykchy (roughly 2 hour ride). Once aboard, relax while a music band plays for us and enjoy the stunning scenery of the Boom Gorge. Upon arrival, we will have a 1-hour walk/drive tour of Balykchy, the once mighty industrial hub. Next head to Cholpon Ata (one hour) and enjoy lunch, followed by a look at the village petroglyphs dating to c.1-5 century AD. Depart for Karakol (2 1/2 hours). Upon arrival we will check in to our nice little hotel and have some free time before dinner. (B-L-D)
Green Yard Hotel, 3-star
March 24 Karakol
Saturday Frunze Collective Farm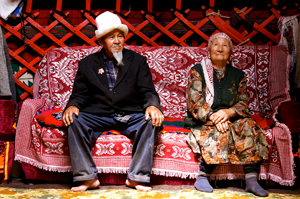 Enjoy Kyrgyzstan's best breakfast - and quite possibly one of the world's best. We will do a short but eventful walking tour of Karakol's sights: the 19th century wooden Russian Church, the 19th century wooden Dungan (Chinese) Mosque, and some of the old imperial Russian houses.
Before lunch we will depart for the nearby Frunze Collective Farm, populated by a Balkar ethnic people who were exiled here by Stalin in 1943. There we will enjoy home cooked vegetarian Balkar food (amazing!) and listen to their songs and stories. Return to Karakol in the late afternoon. For dinner we will delight in some Uyghur food. (60 miles total today) (B-L-D)
Green Yard Hotel, 3-star
March 25 Karakol - Inylchek
Sunday Karakol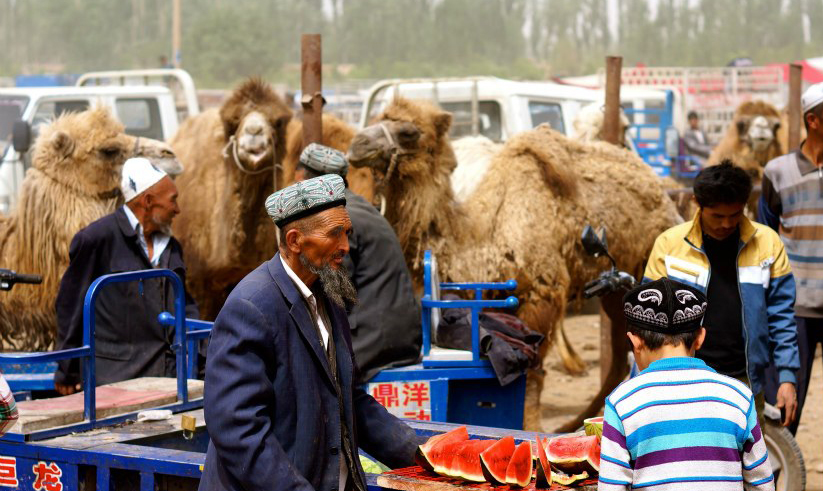 Today if you wish, we can visit at sunrise the animal market in Karakol, Central Asia's second largest after that in Kashgar (China). Bargain for your camel there! After breakfast head to the abandoned town of Inylchek, in the heart of the Tian Shan mountains. A special border permit is needed to enter the area. We will drive in a convoy of assorted Soviet 4WD trucks: ZIL, Ural and UAZ. The roads are normally kept open in winter. But just in case we will hire a snow plowing machine.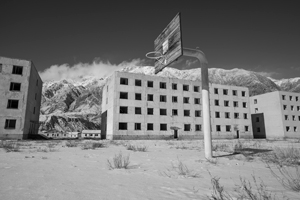 Here, at the very roof of Central Asia, we will see incomparable citadels of rock and ice. At the high pass have tea and then continue by normal 4WDs down to the town. Walk along the empty streets of what was once an industrial town of 15,000 (now 15). A place where the Soviet Union literally ended: a once booming mining and industrial town tucked deep in the Tian Shan mountains, now in ruins. Not even the Soviet Union managed to tame wild nature. This area is incredibly dry (and cold) and it almost never snows more than an inch. We will visit the hot thermal springs nearby - for those adventurous this is an opportunity to have a bath. Enjoy lunch either outside (weather permitting) or inside a house. See where the Soviet Union literally disappeared. (190 miles total today) (B-L-D)
Green Yard Hotel, 3-star
March 26 Karakol - Lake Issyk Kul
Monday Tamga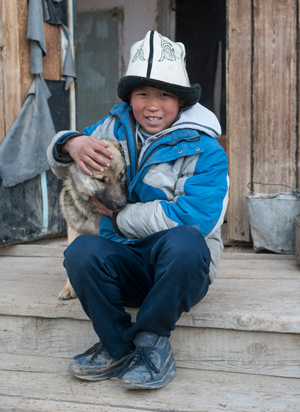 After breakfast we depart west along Lake Issyk Kul's picturesque southern shore, stopping at a Dungan village for tea. We'll have the opportunity to hear people still speaking Chinese 150 years after they migrated here. Also on the way, visit the home of one fascinating old man manufacturing carpets and yurts. Our overnight will be in nearby Tamga Sanatorium, one wing of which was recently renovated. This used to be the secret sanatorium of the Soviet chief of staff. Yuri Gagarin and all the Soviet generals and admirals came here to rest and relax. The area is huge and very interesting - very Stalinist, too. (60 miles) (B-L-D)
Overnight in Tamga: Military Sanatorium
March 27 Tamga - Bishkek
Tuesday Almaty, Kazakhstan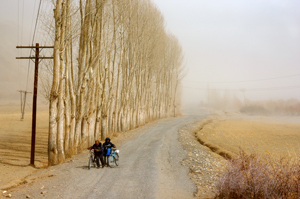 After breakfast we continue along the southern shore of Issyk Kul, stopping for a while at the pretty Skazka Canyon near the lake. Lunch will be on the way, enjoying some good Kyrgyz live folk music. Then we head back to Bishkek (210 miles total today). En route visit a felt factory, where we can buy some quality felt souvenirs: carpets, shoes, ornaments and scarfs (the best you can find in Central Asia). Transfer to the airport for an evening flight to Almaty. Welcome to Kazakhstan. (B-L-D)
Overnight Almaty: a 4-star hotel TBD
March 28 Almaty
Wednesday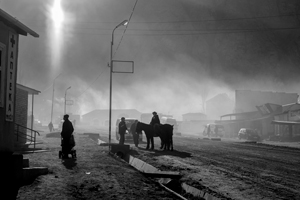 After breakfast we'll enjoy a tour of Kazakhstan's former capital, learning about its history, art and architecture. A cable car on Kok Tobe Hill provides us with glorious views of town! After lunch, explore the wonders of the Green Bazaar, Almaty's glorious old market. (B-L-D)
Overnight Almaty: a 4-star hotel TBD
March 29 Almaty
Thursday
Today you will be with a wonderful local guide, a blogger, who will show you some interesting, hidden, secret places in Almaty. Bid farewell to your new friends over dinner tonight. (B-L-D)
Overnight and Farewell Dinner in Almaty: a 4-star hotel TBD
March 30 Depart Almaty
Friday Connect in Istanbul
Arrive New York
Early morning transfer to the airport for our Turkish Airlines TK351 flight departing at 6:45 AM to Istanbul. Arrive at 9:55 AM. Transfer to Turkish Air TK001 departing at 1:35 PM. Arrive New York's JFK airport at 5:30 PM.
Note: Flight schedules always subject to change.
All photos on this page are by Yuri Boyanin.