Dear Serious Traveler,
Join us for a tour that is short, but packed with sights and activities. It is a wonderful introduction to contemporary Kyrgyzstan - and a touch of Kazakhstan - that will take your breath away. This tour focuses on the ruins of ancient civilizations, on Soviet utopia, and on Kyrgyzstan and Kazakhstan's rich tapestry of ethnicities and cultures. We will immerse in glorious Silk Road nature, architecture, history, art, music and culture.
The fabled Silk Road holds an enduring fascination for the serious traveler. Some have already visited 'the -stans'. If you are one of the fortunate, you may have touched on Kyrgyzstan, but here is your opportunity to explore the country in depth. Out trip circles Issyk Kul (warm lake), the second largest mountain lake in the world. From the eastern side of the lake, in Karakol, we have a chance to visit the second largest animal market in the world. Bargain for your camel there! The largest market is in Kashgar; and was visited by those who took our Great China Silk Road tour. Then we ascend into the Tian Shan Heavenly Mountains, which is a continuation of the Himalayan range, the southern side of which spills into the Taklamakan Desert and the Uyghur areas of China. For experienced explorers, this is a chance to "connect the dots" arriving at the Roof of the Silk Road. The Tien Shan is one of the least visited mountain ranges in the world, the Himalaya's Little Brother, and from the China side, designated a UNESCO World Heritage Site. Don't let the elevation scare you though. Read on.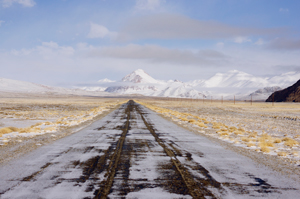 We are introducing our brochure on a very special day, Nowruz, called Nawruz in Central Asia. March 21 is the vernal equinox, the first day of spring and also the Zoroastrian inspired New Year. Make your plans to celebrate the festival with us next year in Bishkek!
Yuri Boyanin, our guide, has a PhD (Melbourne) in modern Kyrgyz history. He's traveled, numerous times, to every village of Kyrgyzstan and every corner of Central Asia. He's also traveled to 116 other countries on this planet and is a Fellow of the Royal Geographical Society and the Explorers Club, New York.
Gwen Erwood
President, Travel Concepts International
and Yuri Boyanin, Our guide
All photos on this page are by Yuri Boyanin.